Other Services
Mobile Industrial Catering
For more than thirty years Continental Vending Service has been the industrial caterer of choice in South Central PA; serving breakfast and lunch to many companies and construction sites.
Boxed Lunches

Remember Continental Vending Service when you plan your next box lunch event. Whether a school field trip, corporate event or employee appreciation day, we deliver fresh, top quality food, when you want it, where you want it. Enjoy our delicious subs, pretzel sandwiches, salad sandwiches, wraps, salads and soups. Our lunch options also include Martin's potato chips, Turkey Hill products, drinks and cookies.
Catering Services
Since Continental Vending Service's specialty is providing great service with high quality fresh food we offer corporate and special event catering which allows our customers to customize our menus and services to make the most of any special event.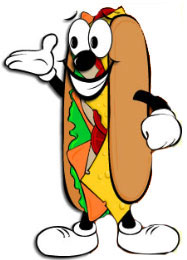 Sandwich sale fundraisers are an easy way to raise money for your school, sports team, club or favorite non-profit organization. Our fresh high quality sandwiches are a great addition to anyone's lunch or dinner. They practically sell themselves!
So, whether you need several hundred or several thousand, Continental Food Service is equipped to deliver fresh subs and sandwiches wherever you need them at a price that will ensure your fundraising project is a success. www.sammysandwich.com
Here are a few more reasons to consider Sammy Sandwich for your next fundraising event:
Fresh, great tasting subs, sandwiches, wraps, and salads with generous portions of meat, cheese and separately wrapped lettuce, tomatoes and onions.


Service and flexibility. Ask us what we can do to make your fundraiser less stressful and more successful.


We allow you to thank your customers by adding, " Thank you for supporting (your organization)" on every label. Great personal touch!


All sandwiches are professionally packaged and heat sealed for freshness.


Condiments are included in the price of the sandwich and come neatly packaged with each sandwich. No hidden cost here!


All sandwiches are made in a clean modern kitchen with an outstanding health inspection history.
Click here for more information or to get started!
Our service area includes but not limited to: York, Hanover, Lancaster, and Harrisburg.