Options
| | |
| --- | --- |
| Continental Vending Service boasts multiple options for your company's breakroom. Our service caters to all businesses big or small. Contact us today regarding your breakroom needs and we will be happy to consult with you to help you work out a solution that will keep your employees on the job and more productive. | |
Traditional Vending

We will stock the machines with popular, in-demand options, and then collect the money as we re-stock the machines. The equipment is placed at no charge and we restock on a regular basis.

Subsidized Vending and Free Vending


Subsidized vending is an ideal option for companies wanting to offer free or discounted snacks and beverages to their employees. We take the guess work out of subsidized vending with our approach. The equipment is placed at no charge and we will restock the products as they are needed; you will then be billed monthly according to your re-stocking needs.

Office Coffee Service

We will keep your breakroom supplied with an assortment of coffee, teas and other essentials. We provide the brewing equipment for free and we will come in on a regular basis to maintain the equipment and stock the products. For more information on Office Coffee Service click here.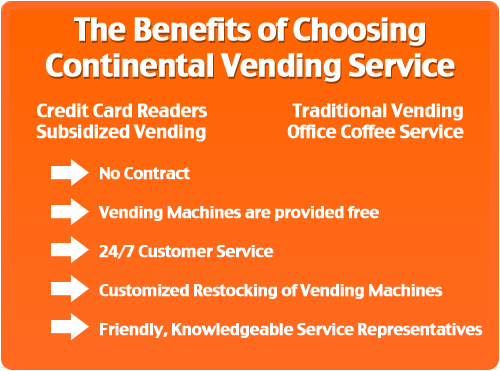 Our service area includes but not limited to: York, Hanover, Lancaster, and Harrisburg.